Fennel and arugula salad (with protein option)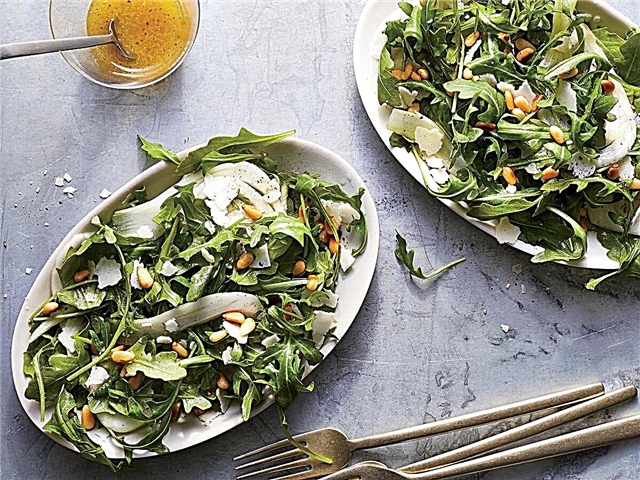 Servings 4
Preparation 30 minutes
Cooking time 10 minutes
Calories 0
Difficulty easy
Ingredients
1 1/2 tsp. roasted pine nuts

2 fennel bulbs (medium size)

500 ml (2 cups) arugula

120 ml (1/2 cup) chopped parsley

1 C. salt flakes Fleur de sel (Salt Spring Sea Salt) or coarse sea salt

4 tbsp. fresh parmesan cheese style pecorino or other fresh, finely grated

125 ml (1/2 cup) apple cider vinegar vinaigrette (see apple cider vinegar vinaigrette recipe)

1 C. tablespoons crushed black pepper (or ground peppercorns)
Preparation
Preheat the oven to 375 degrees Fahrenheit (190 degrees Celsius).
Spread the pine nuts on a lightly oiled baking pan (on parchment paper or directly on the baking pan).
Bake for 5 to 10 minutes, stirring halfway through or occasionally, until golden brown.
Cool and reserve.
Cut the fennel tops (leafy part at the top of the white bulb) and set aside for garnish.
Cut the fennel in half, then remove the core. Thinly slice the fennel lengthwise.
In a bowl, combine the fennel, arugula, parsley, salt, cheese (reserve a little cheese for garnish) and toss with the vinaigrette.
Divide among 4 bowls. Garnish with the toasted pine nuts, remaining Parmesan, cracked or ground black pepper and a few sprigs of fennel tops.
Protein option:
Added a hard-boiled egg cut in half
Add a cane of chopped tuna in olive oil.
Recipes you'll also like...